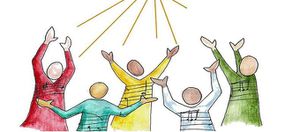 Too many workers hate their jobs.
The daily routine of getting up, commuting then spending 7 hours working for a company (whatever the size) can be sometimes stressful and unpleasant.
Choosing a job and an employer should be enjoyable.
Luckily, some businesses think and care about their staff by organising regular activities: team building, they call it.
It is first an incentive and a reward. It is also a kind of friendly and internal competition which helps to get everyone involved and maybe discover more about each other without revealing anything else.
A good way to be part of a real team.
There is also the traditional Secret Santa....for Christmas, of course.
This is fun as long as the rules are correctly setup and the budget is limited. But it gives a great family atmosphere to a workplace as well.
Going to work is important for our lifestyle: it pays the bills, as so many people say!
Other companies offer business health insurance, which purpose is to help and get benefits regarding wellness. The aim is about quality healthcare more accessible and affordable for all.
As abstenteeism can change the takings of a business and its future too, having reliable and healthy staff is vital as well.
During lunchbreaks there are even some team interactions when foosball is available or game consoles.