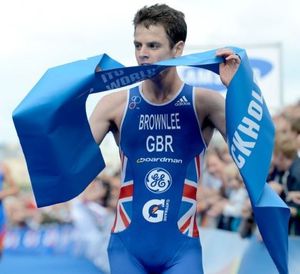 The British team had a good weekend at the Stockholm leg of the World Triathlon series.
Olympic bronze medallist Jonny Brownlee claimed his fourth win of the season in the sprint race which was lacking his brother, Alastair. It now gives him a real chance of becoming world champion after Alastair's success last year. In the mixed relay event, Brownlee had a deficit of 28 seconds to make up as he started his swim, but German Steffus Justus crashed twice in the cycling section, allowing the Brit to overtake and he held off Frenchman Vincent Luis to secure the victory.
After crossing the line to claim the world title, Brownlee said: "I swam pretty fast and I knew I had a chance then.
"I wasn't pushing too hard on the bike as Steffen crashed. When he crashed it completely changed things.
"I know my advantage is running off the bike and I knew if I ran as fast as I could, then that was all I could do.
"I got a four-second gap and I knew then that we could do it. It's a very exciting event to take part in. It would be great to get it into the Olympics."
Fans lined the route, cheering on the competitors and probably carrying on victory celebrations in their hotels well on into the evening.