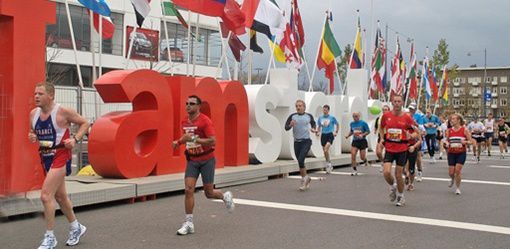 Amsterdam is a name that normally comes up with a lazier holiday full of café's, museums and gentle cycle rides but on the 21st October the fitness fans will take over the city as the annual TCS Amsterdam Marathon is held again. In its 37th year they expect record numbers of runners to turn up and compete with over 25,000 entrants from over 70 countries pounding the pavement.
Anyone familiar with Amsterdam's outdoor sports events will know that being a participant as either a competitor or as a part of the amazing crowds will be something to remember. Running since 1978 it is now considered one of the world's best marathons. The runners will start from the Olympic Stadium at 9:30, head south following the River Amstel, turn back into town, weaving through the Indische Buurt, through Vondelpark and finally back to the finish at the Olympic Stadium again with the fastest people hoping to arrive at around 11:30.
If you are competing or if you know of someone competing then you are in for a big treat as the atmosphere of the event is well known for being amazing. For those who are using it as an excuse for a city break in Amsterdam or a long weekend, the event is well organised with every measure taken to minimise disruption however some accessibility and parking will be affected and obviously the marathon route will be out of bounds from 23:00 the night before. Trams and buses will run along and nearby the normal routes where possible and you can also find the crossing points for the marathon on the Iamsterdam site.
A map of the route is available in PDF form and any other information can be found on the TCS Amsterdam Marathon Website.
Good luck!