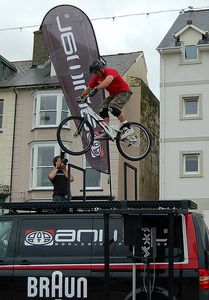 2012 was an awesome year for the Animal Bike Tour and 2013 is set to be even better!
The Animal Bike Tour wowed crowds all over England with notable performances at the British GP and Queens Jubilee celebrations. You can catch the next tour at The London Bike Show plus a raft of other top attractions like the DMR Pump Track and test cycling the latest bikes.
These aren't your typical skate park tricks either. With specially designed platforms and ramps, you'll witness a set of unique bike tricks from the riders.
Leading the Animal team are Martyn Ashton and Blake Samson.
Martyn Ashton
Bike trials supremo Martyn Ashton is a 4 times British Champion and World Champion having been a pro for 17 years now – he also held the Guinness World Record for the side-hop. As one of the most famous mountain bike riders in the world, he's been credited with turning the sport from niche to what it is today – can we call him the Godfather yet? Entering the Mountain Biking 'Hall of Fame' in 2008, he's been the face of the tour since 2002. With this his 11th year, he continually pushes the boundaries and finds new ways of exciting us – watch out for his trademark side-hopping skills!
Make sure to check out his book Tricks and Techniques – a must for all budding freestylers!
Blake Samson
Blake has cemented his place on the tour after a fantastic tour debut in 2009 as a guest rider. A naturally gifted dirt jumper, this Zimbabwean rider is magician on his bike and shows no fear which is apparent from some of the crazy skills he pulls off! Backflips with huge air underneath him will make your jaw drop and stare in amazement as he 'pulls a rabbit out of his hat' time and time again!
Check out this video playlist of previous tours to give you a taste of what to expect from the tour.
Animal Bike Tour video featuring Martyn Ashton and Blake Samson
Inspired?
As mentioned previously, the mountain bike sport is no longer a niche. People around the world are following in Blake and Martyn's footsteps. Many are inspired after attending an Animal Tour Show. Of course, it can be a dangerous sport so make sure you start out small and take your time to develop the right technique to avoid injury. If you are injured and it wasn't your fault, you could be entitled to a cycle accident claim.
To get you started, watch the video playlist below for essential skills and this article by UK freerider Chris Smith.
Mountain Bike essential skills
Have you seen the Animal Bike Tour? Do you have any tips for MTB skills? Tell me in the comments section below.